Philips HR1643 Avance Collection Hand Blender
$119.00
Product Summary
Model Number: HR1643
Key Features
Triangular shape for optimal flow and blending performance
The Philips handblender ProMix thechnology was developed together with the prestigious Stuttgart University. It is an advanced technology for more consistent and faster blending. The unique ProMix blending technology of Philips hand blenders uses a triangular shape to create an optimal flow and gives maximum performance making silky smooth soups and smoothies.
Powerful 700 W handblender motor for best blending results
The Philips handblender with powerful and reliable motor of 700 Watt can blend and almost any ingredient and delivers smooth results. With this motor power this hand blender can drive also a large variety of accessories.
Chopper to chop herbs, nuts, cheese, chocolate and onions
With the compact chopper accessory of the Philips hand blender you can chop herbs, nuts, cheese, chocolate and onions.
Whisk accessory for whipping cream, mayonnaise and more
Single whisk accessory for Philips hand blender for whipping cream, mayonnaise, pan cake batter and more. Makes your hand blender mutlifuctional and versatiles.
Beaker 600ml. For blending, whisking, mixing.
A beaker 600ml with measurment indication, for blending, whisking, mixing is included with the handblender. The beaker for the handblender comes with a handy spout and measures.
Hardned stainless steel blending knife
This Philips hand blender has a hardned stainless steel blending knife. The shape of the knife is optimized to deliver with the ProMix triangular handblender blending bar the best blending results. It is food safe and will not corrode.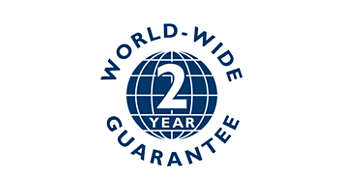 Comes with 2 years guarantee.
With 2 years world-wide guarantee.
Anti-splash blade guard with special wave shape
The special wave shape in the bottom part of the handblender blending bar garantees no splashes or mess while you blend.
Ergonomically designed grip for secure and easy handling
This Philips hand blender has a ergonomic soft touch handgrip that is designed to give a secure and safe grip which helps to maneuver the hand blender during use.
With SpeedTouch you control intuatively variable speeds
This Philips hand blender has the SpeedTouch with variable stettings and a turbo function in one button. Control with your finger tips in an intuatitve way the handblender: the more you squeeze the more power. It helps you to start slowly without splashing and smoothy speed-up till you reach your preferred speed setting. With variable speed settings and a turbo function you have a full spectrum of speeds available for any type of ingredient, creating the perferred consistency or smoothest blending results.